Anti-Meghan Markle YouTube channels downgraded from search results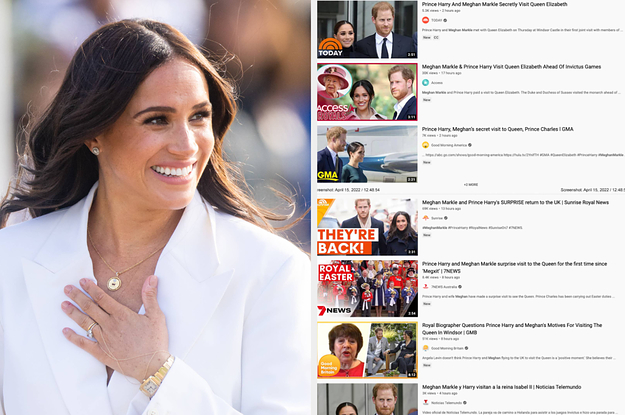 Although Sussex fans have wondered for years why the anti-Meghan accounts were created and monetized, royal YouTube scrutiny accelerated in January, when social media analytics firm Bot Sentinel published a report examining anti-Meghan content on various online platforms. The report was the third in a series on what the company dubbed "one-time hate accounts", profiles that appeared to be on the internet only to attack a certain individual – in this case, the Duchess of Sussex.
In the YouTube section of the report, Bot Sentinel identified 25 channels whose videos "mostly focused on bashing Meghan". According to the report, these channels had a combined total number of views of nearly 500 million, and Bot Sentinel estimated that collectively the accounts generated approximately $3.5 million in ad revenue over their lifetime. (A number of creators of the channels identified in the report have disputed the company's estimates, but have so far refused to publicly share their earnings.) The report called on the platform to remove the channels, citing the YouTube's Harassment and Cyberbullying Policy, which explicitly states that "accounts dedicated entirely to maliciously insulting an identifiable individual" are examples of content it does not allow.
And yet, to the frustration of many Sussex fans (and the delight of Meghan and Harry's haters), YouTube has so far only removed one anti-Meghan channel. (Another channel was temporarily removed but, as Input magazine reported, it has been restored.)
Indeed, YouTube's current Community Guidelines have a significant vulnerability that allows targeted harassment and, often, the dissemination of false information about an individual without violating the platform's rules. Anti-Meghan channels are platforming – and many are monetized – because of the company's definition of what you have to attack about a person for them to count as harassment, hate speech and cyberbullying.
According to YouTube's terms of service, to qualify as "content targeting an individual with prolonged or malicious slurs," slurs must be based on "intrinsic attributes," which the company defines as "physical traits." and "protected group elements". status." This protected group policy lists 13 attributes that cannot be attacked: age, caste, disability, ethnicity, gender identity or expression, nationality, race, immigration status, religion, sex/gender, sexual orientation , victims of a major violent event and their relatives , and veteran status.
YouTube's rules say that everything else, including attacks based on lies and potentially defamatory content, is fair game. And so the platform hosts conspiracy videos that falsely imply that Meghan is intersex or provide 'evidence' that she engaged in sex work before meeting Prince Harry – and these videos have more than 100,000 views.
In an emailed statement, YouTube reiterated exactly what types of attacks qualify as harassment and hate speech. "We have clear policies that prohibit content that targets an individual with malicious threats or insults based on intrinsic attributes, such as their race or gender," spokesperson Jack Malon said.
Part of the problem, Maza said, is that most racist, anti-LGBTQ, xenophobic or otherwise hateful content that targets a person based on "intrinsic attributes" is insidious. Indeed, much has been written about the "racist undertones" of British media coverage of Meghan.
"Hate speech is always implicit," Maza said. "Good hate speech, good sectarian propaganda, touches on understatement, stereotypes, a wink and a nod. It is always suggested or evoked. If your approach to moderating speech is that there has to be a clear rule, you will never have a good policy. Emphasis should be on implicit biases… Violence and explicit bigotry comes from implicit bigotry.
Most anti-Meghan YouTubers have proven to be good at toeing YouTube's line when it comes to their videos, using code words like "uppity" and "classless" to describe Meghan, or playing in the trope of womanhood. angry black girl by portraying her as someone who throws temper tantrums on a regular basis.